At Play Vol. 1

Re-Issue Album Artwork of At Play.

Released

October 20, 2008

Recorded

2006-2007

Length

1:05:47

(Chronology) Last Album:

(Chronology) This album

At Play Vol. 1

(Chronology) Next Album:

Record Labels

Play Records & Play Digital

Catalog Numbers

PLAYCD001 & PD2026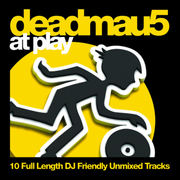 At Play is a compilation album from deadmau5. It consists of ten deadmau5 tracks that DJs could play and mix.
They re-issued the album in May, 2009 and they changed the album art to a yellow mau5head.
Track Listing
Edit
01 - Vanishing Point - 7:02
02 - Sex, Lies, Audiotape - 5:56
03 - Cocktail Queen (deadmau5 vs. Melleefresh) - 5:27
04 - Faxing Berlin - 8:39
05 - Hey Baby (Adam K Dirty Remix) (deadmau5 vs. Melleefresh) - 6:19
06 - Turning Point - 7:02
07 - This Is the Hook (deadmau5 vs. Steve Duda aka BSOD) - 5:58
08 - 1981 - 6:04
09 - Dr. Funkenstein - 7:13
10 - Afterhours (deadmau5 vs. Melleefresh) 6:07
Complete Album
Edit