.
At Play Vol. 5 (Album) 
Edit
At play Vol. 5 is the fifth and last album for the At Play series. The album is available on CD only, and features alternate mixes from earlier At Play songs (mostly collaborations with Melleefresh and Billy-Newton Davis), unreleased tracks, and songs that were previously released.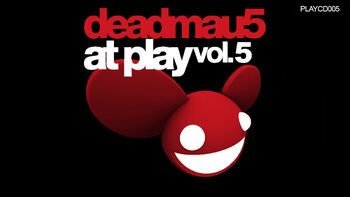 The song "Assorted" is a BSOD track called "Choplifted". The song "Fallen" has elements and notes of "Templar" and "Trepid" mixed in, and the track  "I Like Your Music (Velvet Mix)" was accidentally replaced with the original mix; it is still unknown whether the mistake was fixed and why it occurred. The same error occurs in After Hours, where the Smoothy House mix is instead replaced with the electro house mix.
Track Listing
Edit
1. Bitter Kitten (from A Little Oblique) 5:59 
2. Overdraft (From Get Scraped) 4:31 
3. Fallen (Unreleased, accidentally mixed with Trepid and Templar) 3:05
4. I Like Your Music (Velvet Mix) [feat. Billy Newton-Davis, accidentally replaced by original mix] 7:39
5. Assorted (aka BSOD- Choplifted) 5:37
6. After Hours (feat. Mellefresh) [Smoothy House Mix, accidentally replaced by electro house mix] 5:37
7. This Noise (Deeper Logic Mix) 6:20
deadmau5 At Play Volume 5

Released

December 15, 2014

Recorded

2006-2007

Length

58:53

(Chronology) Last Album

5 years of mau5

Record Label

Play Digital

Catalog Number

PLAYCD005

Genres

Electro House, Progressive House, Minimal, Tech House
8. All U Ever Want (feat. Billy Newton-Davis) 7:15
9. Stereo Fidelity (Unorganized Mix) 6:02
10. Outta My Life (feat. Billy Newton-Davis) [Deep Dub Mix] 6:41
Total Length 58:53
Producers and Labels
Edit
All the At Play albums are released by deadmau5's old record label, Play Digital, hence the name "At Play". 
Producers: Joel Zimmerman (aka deadmau5), and Steve Duda