Random Album Title

Random Album Title's Album Artwork

Released

September 2, 2008

Recorded

2002-2005

Length

1:12:26

(Chronology) Last Album:

(Chronology) This album

Random Album Title

(Chronology) Next Album:

Record Labels

Ultra Records, Ministry of Sound and Mau5trap.

Catalog Numbers

MAU5CD01 (MOS), UL1868 (Ultra) and UL1905.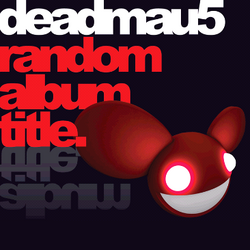 Random Album Title is the third studio album [but first mainstream album] by electronic dance music artist deadmau5. Released on the labels Mau5trap Recordings, Ministry of Sound and Ultra Records, it is deadmau5's breakthrough album. It was released physically in Ireland on October 3, 2008 and in the UK on October 6, 2008. In the United States, and Canada, there are two versions of the album, Unmixed and Mixed. It was released September 2, 2008 digitally and was released physically worldwide on November 4 2008.
Following the success of the single "I Remember" in the UK, Random Album Title entered the UK Top 75 Albums chart at #31 in May 2009.[citation needed] A video for I Remember was released in early 2009. "Faxing Berlin" appears in At Play, which is 6:17 longer compared to this album version's length.
The track "Arguru" was written in memory of Juan Antonio Arguelles Rius, a well-known audio-software developer and musician.
The track "Slip" is named for its recurrent hook, which falls by design out of time with the song.
The track "Brazil (2nd Edit)" has been used thrice so far for other artists. Kylie Minogue sampled the song in the sessions for her album Aphrodite in an unreleased song named "Change Your Mind". Alexis Jordan also used the song on her debut single, "Happiness". It has also been used by Taio Cruz in his song "Touch the Sky". It was used as a remixed mash-up for Haley Gibby's 2010 recording "Falling in Love," billed as "Falling in Love With Brazil."
Track Listing
Edit
Mixed (Digital UL1868, CD Jewel Case MAU5CD01 and CD Digipak MAU5CD01)
Edit
01 - Sometimes Things Get, Whatever - 7:15
02 - Complications - 5:31
03 - Slip - 6:44
04 - Some Kind of Blue - 6:19
05 - Brazil (2nd Edit) - 5:33
06 - Alone With You - 7:30
07 - I Remember (Vocal Mix) (with Kaskade; co-written by Ryan Raddon & Finn Bjarnson) - 9:07
08 - Faxing Berlin (Piano Acoustic Version) - 1:39
09 - Faxing Berlin - 2:36
10 - Not Exactly - 8:00
11 - Arguru - 5:30
12 - So There I Was - 6:49
Unmixed (Digital UL1905)
Edit
01 - Sometimes Things Get, Whatever - 8:19
02 - Complications - 9:51
03 - Slip - 7:43
04 - Some Kind of Blue - 8:00
05 -Brazil (2nd Edit) - 6:35
06 - Alone With You - 8:11
07 - I Remember (Vocal Mix) (with Kaskade; co-written by Ryan Raddon & Finn Bjarnson) -9:52
08 - Faxing Berlin - 8:37
09 - Not Exactly - 9:12
10 - Arguru - 7:11
11 - So There I Was - 6:45
Songs from At Play series
Edit
At Play Vol. 1
Edit
Complete Album
Edit